Kayaking Apps: Your Best Digital Paddling Guide
Updated On: October 30, 2023
A toe dipped into my favorite serine lake is one thing. Is it still, unleashing the kayak from winter storage and preparing for that first paddle stroke? Now, that's when I know outdoor adventure season is in full swing.
Paddling against the current of a river or gliding along a calm ocean shore offers an unparalleled sense of freedom. With every wave conquered comes a unique thrill, but like any sport, preparation and guidance are key. And that's exactly where kayaking apps come into play!
My smartphone is my Swiss Army Knife for all things outdoor: a compact tool containing handy solutions nestled in various digital forms. Being an ardent kayaker, I've discovered some cutting-edge top kayaking apps serving as a dependable paddler's companion by bearing quintessential features such as precise navigation assistance, detailed weather forecasting, safety alerts and much more.
This Is Your Treasure Trove! Here's What To Expect:
An in-depth analysis of why you should utilize top kayaking apps.
A list of recommended free and premium paddling apps that will exponentially enhance your kayaking experience.
Key pointers to help you identify what makes an app great for paddlers.
Insight on how using these kayak trip planning apps can help improve your overall performance and connect you with like-minded individuals in the community.
Why Use Kayaking Apps?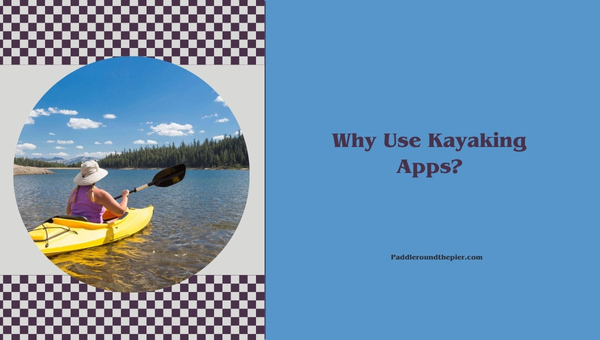 As someone who frequently steps onto a kayak, trust me when I say, kayaking apps can take your trip from good to fantastic! Let's delve deeper into the reasons.
Enhancing the Paddling Experience
Your kayaking trips are all about creating memories and thrilling experiences that last a lifetime. Kayak trip planning apps come in very handy for this purpose. They allow you to view top-rated locations in your vicinity or across the state!
Thanks to these must-have paddling apps, no longer need paper maps or charts; route planning and tracking are now in your palm. Keeping tabs on the distance covered is as easy as tapping on a screen!
Most of these kayaking apps support real-time updates giving you live data regarding your progress during aquatic journeys.
The best part? You can share this data with fellow paddlers right away, adding competitive fun to solo outings.
Safety and Navigation
Kayak navigation apps act as much-needed lifeguards for every outdoor enthusiast keen on hitting the water. Here's why:
These advanced tools help reduce risks by providing weather updates such as storm alerts or tide information at regular intervals using meticulous forecast models.
Planning safe routes becomes easier with these handy safety apps for paddlers. Unpredictable channels and dangerous obstacles that once posed threats will no longer make your heart skip a beat!
In case you run into trouble during an outing, some kayaking apps even include a crucial distress signal button feature - perfect for novices finding their sea legs.
In my years of experience, I've found the use of these amazingly user-friendly applications to undoubtedly improve my overall padding experience while ensuring safe voyages at all times.
Also Read: Inflatable Flamingo: Understanding the Popularity
Top Free Kayaking Apps to Download
From accurate weather forecasts to detailed trail maps, there's an abundance of kayaking apps out there chock-full of helpful features designed to enhance our paddling trips. After extensive research and testing, here are four must-have, free apps that every paddler should consider downloading.
Accuweather
Without a doubt, one of the crucial aspects of planning any kayaking trip is understanding the weather conditions you'll encounter. That's where Accuweather —one of the top kayaking apps - comes in handy. Some top-notch features include:
Weather forecasts: It offers an hourly forecast for the day and extended forecasts up to 15 days.
Temperature monitoring: Get real-time updates on the current temperature and what it feels like based on humidity levels.
Precipitation percentages: Quickly understand chances for rain, which can be vital in planning your kayak trip.
Accuweather's comprehensive coverage ensures that you don't have unexpected surprises once you hit the water!
NOAA Weather & Radar Forecast
Another essential app for paddlers looking for reliable weather data is NOAA Weather & Radar Forecast. It stands apart with:
Real-time tracking: Monitor weather changes as they happen, providing detailed information about temperature swings or incoming storms.
Radar images: Visualize incoming bad weather and adjust plans accordingly with easy-to-understand radar photos.
Alerts system: It pushes alerts directly to your phone when severe conditions are expected at your current location.
NOAA's timely alert system literally could be a life-saver while you're out on the open water!
GPS Sports Tracker & Polaris GPS Navigation
The GPS Sports Tracker not only facilitates navigation but also fosters connections between fellow kayakers with its:
Community aspect: Share experiences and tips with like-minded outdoor enthusiasts from all over the world via their community platform!
Polaris GPS Navigation complements this by depicting clear, concise navigational data:
Detailed trail navigation: Designate your paddling route accurately and without a hassle.
Marine charts: Handy for marking voyages, whether inland or in maritime areas.
These two kayak trip planning apps will help to ensure you don't unwittingly go off course!
Go Paddling & Paddle Ready
Finally, rounding up our list is Go Paddling and Paddle Ready - two splendid must-have paddling apps.
Developed by paddlers for paddlers, Go Paddling unlocks:
A treasure trove of information on lesser-known launch sites to explore!
Detailed routes including difficulty level providing users with the necessary information to make expeditions safe and fun.
Paddle Ready supports its user base primarily comprised of inexperienced kayakers with:
Comprehensive safety guidelines: A detailed rundown of what precautions to take before initiating any journey.
Equipment checklists: Ensures you're well-prepared with your gear before setting off!
Knowledge is power when venturing out into the water - these safety apps for paddlers bestow just that!
Also Read: Unveiling What Paddle Boards are Made Of: An Expose
Best Paid Kayaking Apps
I've had some serious paddling journeys on the water, and I can say without hesitation that investing in some of the best-paid kayaking apps can significantly enhance your experience. Here's my take on two such apps - River Data and Kayak Log, along with Juice Defender and Stream Map USA.
River Data & Kayak Log
These two are not just ordinary kayak trip-planning apps. They both offer unique features to their users.
River Data, for starters:
Continually updates its water flow data covering more than 14k locations globally. It's a boon for me when I'm trying to plan a rafting or river kayaking trip.
The data offered by this app is genuinely real-time, ensuring minimal delays in reporting any potential dangers in your planned route.
What strikes me as phenomenal about this app is the sheer coverage of locations. No matter where I wish to paddle, River Data almost always has some valuable data for me to work with.
On the other hand, Kayak Log may appeal more to those who are keen on recording their journeys:
It records speed, mileage, and even temperature patterns, which helps me keep track of my performance across different climates and terrains.
The interface is simple and intuitive. With just a few swipes, I found myself logging insightful paddling information.
Whether you're training for an upcoming event or simply love capturing every valuable detail of your paddling journeys like me - Kayak Log will be your trusted sidekick.
Juice Defender & Stream Map USA
If you enjoys long paddling trips like myself, check out these must-have paddling apps — Juice Defender & Stream Map USA.
Juice Defender:
Is designed specifically to help save battery life during outdoor activities—perfect for long kayak trips!
This app manages those power-hungry components of your phone, helping you get the most out of your battery life.
The user interface is simple—within a few taps, I optimized my device for extra paddling hours.
Stream Map USA, on the other hand, offers a more multifaceted approach:
It provides detailed information on almost all waterways across the country.
To me, it's like having a comprehensive atlas for all my kayaking plans throughout various regions in the US.
The data provided by this app is both reliable and precise. When it comes to planning your route or understanding river conditions, this paid app is definitely worth consideration.
These top kayaking apps aren't just glorified versions of free utilities – they provide value that truly enhances my kayaking adventures!
Also Read: How to Store a Paddle Board Effectively: Essential Guide
What Makes a Great Kayaking App?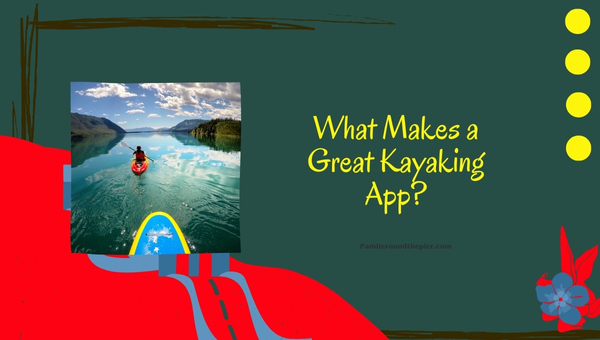 When choosing among the myriad of kayaking apps available on the market, there are certain criteria I look for above all else. Here are two vital features that I believe make a stellar kayaking app.
User-Friendly Interface
A user-friendly interface is a non-negotiable feature when it comes to any application, and kayaking apps are no exception. Let's face it – you'd rather be spending your time out on the water rather than trying to wrestle with an application that's hard to navigate.
Ease of Navigation: Apps like Accuweather and River Data shine in this department. Easy navigation through different tabs and features save precious time — time better spent paddling.
Attractive Layout: A visually appealing design encourages use. An app should provide an aesthetic as refreshing as those open waters we crave!
Platform Compatibility: The best kayak trip planning apps work seamlessly across numerous devices – smartphones, tablets or smartwatches? No problem!
So whether it's checking weather conditions or tracking your paddle route via GPS, navigating through these tasks should be a breeze!
Data Accuracy
An inaccurate forecast can spell disaster for most outdoor activities, especially ones as dynamic as kayaking. And let me tell you something - there's nothing worse than expecting calm waters and heading straight into choppy territory—been there, done that!
In light of this, reliable data becomes the backbone of any worthwhile paddling app. Here are some standouts:
Dependable forecasts: NOAA Weather Radar Forecast remains undeterred in providing real-time weather updates under any circumstance - come hail or high water!
Comprehensive services: Specialized services like Stream Map USA go above and beyond conventional data sets by providing multi-faceted details regarding waterways across the country.
Having been cornered more times than I'd like to admit due to unpredictable weather, I've learned that reliable data is no laughing matter. In this day and age, a good kayaking app must provide us with accurate and actionable information to ensure we make the most of our paddling endeavors. So paddle on, comrades!
Using Kayaking Apps for Improvement
Kayaking apps are not just for planning or navigating your kayak trips; they can also play an instrumental role in enhancing your kayaking skills and connecting you to the broader paddling community.
Training Programs
With dedicated training programs built into some of these fantastic apps, improving your performance on the water is as easy as tapping a screen. Here's how these programs can benefit you:
Skill Building: This program offers step-by-step guides on perfecting techniques, from basic strokes to advanced maneuvers. It's like having a personal coach by your side.
Customized Workouts: Depending on your skill level and fitness goals, many apps offer custom workout plans that vastly improve your stamina and control while paddling.
Track Progress: Tracking advancements is crucial in any sport. The best kayaking apps have features tracking your speed, distance traveled, and even the time taken per trip - making it easier to gauge progress over time.
A brilliant example of this is Paddle Ready, designed specially to cater to beginner paddlers with its range of useful training modules.
Community Connection
One of the hidden perks of kayaking apps is their ability to forge connections within the kayaker community:
Share Experiences: Applications such as GPS Sports Tracker allow users to share their journeys with others, including tips about unique spots or potential hazards one should be aware of during specific trips.
Learn from Others: Observing routes paved by seasoned paddlers provides practical insights regarding different waters and how best tackle them.
Friendly Competition: Some kayak apps allow users to compare their achievements with others - fostering healthy competition that stimulates growth.
In essence, these community aspects imbue a sense of camaraderie among enthusiasts - making enriching our passion for kayaking an engaging affair!
Whether it's elevating performance on waves or earning a new set group mates who share your love for the open water, these novel kayaking apps are making quite a splash! I'm convinced every paddler out there must give them a shot.
FAQs
What are some free kayaking apps and their features?
Some free kayaking apps include Accuweather, NOAA Weather & Radar Forecast, GPS Sports Tracker & Polaris GPS Navigation, Go Paddling & Paddle Ready. They offer features like weather forecasting, route planning, safety information and community interaction.
Can I use any general tracking app for my kayak activities?
Yes, you can. However, kayak-specific apps like Kayak Log or GPS Sports Tracker provide added benefits such as water flow data and specialized training programs.
Do you need constant internet or cellular data to use these applications' benefits?
It largely depends on the app. While most apps require internet for updates and route planning, many provide offline accessibility for certain features.
How do I ascertain if a weather app's updates are reliable?
Look for apps that source their information from dependable sources like the National Oceanic and Atmospheric Administration (NOAA). Pay attention to user reviews regarding the accuracy of the forecasts.
Conclusion
Through my extensive journey of navigating the world of kayaking apps, I can assure you that these technological tools are indispensable for any paddler - be it a novice or a seasoned expert! They not only ensure safety in challenging waters but also significantly enhance your overall kayaking experience. By forecasting weather conditions and assisting you with paddle learning programs, they make each expedition smoother and more fruitful.
Key Takeaway Points:
Kayaking apps prove to be valuable assets for enhancing one's paddling experience.
Noteworthy free options include AccuWeather and GPS Sports Tracker for an array of features.
For advanced data accuracy, River Data & Stream Map USA are excellent choices.
Such apps can be pivotal in skill improvement by providing dedicated training modules.