Red River Gorge Kayaking: Explore the Breathtaking Beauty
Updated On: October 29, 2023
What's more refreshing than immersing yourself in the soothing rhythm of paddles against water, surrounded by jaw-dropping beauty? Welcome to my Red River Gorge Kayaking experience! As I dip my paddle into crystal-clear waters and marvel at the soaring rock formations, it feels like I'm discovering nature's best-kept secret. It's a hidden realm untouched by the hectic hustle and bustle of everyday life.
In this post, I'm going to take you on my personal journey through this enchanting destination. From gearing up and navigating the waters to memorable moments infused with stunning sceneries - it's all about the thrills and spills of my Red River Gorge kayaking adventure. So sit back, relax, and let me transport you into this magical world where adventure meets tranquility!
Here's what awaits you in these pages:
The unmatched euphoria of kayaking in Red River Gorge.
Personal tales from my adrenaline-fueled journeys.
Vital tips for planning your own paddling adventure.
Highlights of unique attractions along the route.
A deep dive into enjoying nature's grandeur amidst this serene environment.
The Wonders of Red River Gorge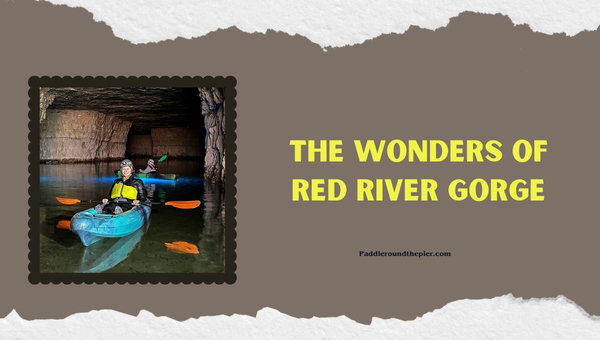 Nestled in the heart of Kentucky, the Red River Gorge is a masterpiece of nature intricately carved over millions of years. The breathtaking views, picturesque landscapes, and a wealth of outdoor activities it offers have always made it an alluring destination for adventure seekers and tranquillity lovers alike.
The Hidden Gem: Red River Gorge Kayaking
Yes, you read that right! While the gorge is well-known for its hiking trails and recognized as a global rock climbing mecca, there lies an equally gratifying yet lesser-known activity — Red River Gorge Kayaking. For anyone who has had the pleasure to embark upon this adventure, it's nothing short of uncovering a hidden gem!
The Beauty: As you paddle through its clear waters under the spacious sky, every stroke enlightens you to the grandeur and charm that makes this place so appealing. Against the backdrop of lush green forests reflecting beautifully in calm waters – kayaking here feels like moving through an artist's dreamy landscape.
Natural Formations: Undulating through valleys and canyons adorned with unique geological structures- from soaring cliff lines to whimsical sandstone formations- kayaking avails up-close experiences with Mother Nature's exquisite craftsmanship.
Rich Biodiversity: Kayaking along the waterways painted by seasons adds another dimension to your exploration at Red River Gorge. You can behold wildlife in their natural habitats - be it spotting graceful herons wading near shorelines or catching sight of playful otters diving around.
In short, Red River Gorge Kayaking adds more than just an activity - It offers placidity amid an adrenaline rush; It takes you across nature's gallery showcasing epochs; It lets your senses literally soak in diversity while humanity roots for inclusivity. There's really no wonder why many call this small corner of Kentucky Heaven-on-Earth!
Also Read: The Ultimate Guide to Paddle Board Transport: Do it Right!
Adventure with Red River Gorge Kayaking
There's an island of adventure waiting for you, known as Red River Gorge Kayaking. Nestled amidst vibrant green foliage and serene landscapes, the course is a playground etched by Mother Nature herself.
Embarking on the Journey
Excited yet? Fantastic - let me guide you on how to equip yourself for this kayaking expedition.
Choosing Equipment: The first step is getting your hands on a kayak. Whether it's a sit-in or sit-on-top, inflatable or foldable, make sure it suits your experience level and comfort.
Sit-in Kayak: Perfect if you're after speed and control.
Sit-on-top kayak: A preference among beginners for its exceptional stability.
Paddles: Another essential is the paddle. Ensure that it matches your height and stroke style to guarantee an education in graceful, seamless gliding.
Kayak Gear & Clothing: Be prepared for changing weather conditions with suitable apparel and gear.
Waterproof jacket or dry top
Water-resistant sun hat or cap
Hydration pack
Safety Measures: Safety should always be your prime concern while kayaking:
Lifejacket: Mandatory stuff, folks!
Helmet: Obligatory when running whitewater
Map & Compass: Always handy in case of detours.
That covers our need-to-knows regarding gearing up for the journey within the timeless beauty of Red River Gorge!
My Personal Experience
My rendezvous with Red River Gorge Kayaking was enlightening, to say the least. Here are a few highlighted moments of my adventure:
The moment I hit those waterways - I still remember my heart pounding like a drum!
Seeing Dawn spread her rosy fingers over the gorge while floating atop calm waters was truly magical.
Rock formations dotting my route gave the archeologist in me a literal field day! Their surface bore umpteen signatures of time passed - endless erosion weathering stubborn stone into unique shapes.
One word for biodiversity here? Striking. The sheer variety in plant and animal species that I witnessed - it was like flipping through the colorful pages of an expansive nature-encyclopedia!
Whether you're an adventure junkie or a tranquility seeker, trust me when I say that Red River Gorge Kayaking can cater to your every whim!
Also Read: Paddle Board Size Guide: How To Pick The Perfect One For You
Gliding through the Waterways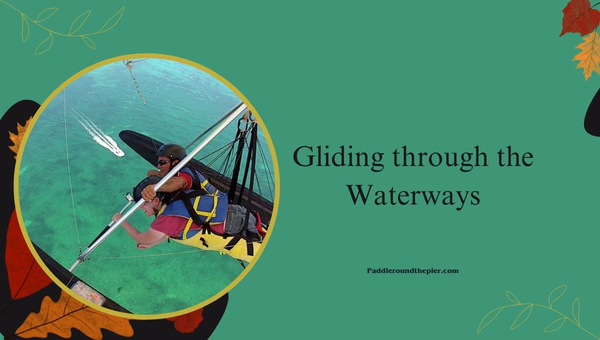 Perhaps one of the most thrilling aspects of Red River Gorge Kayaking is the adrenaline-pumping journey along the mesmerizing waterways. The fusion of crystal-clear waters and abundant greenery all around creates a picture-perfect paradise just waiting to be discovered!
Navigating the Waters
As we thread our way in the labyrinthine watercourses, I reckon that Red River Gorge Kayaking isn't just a pleasurable pursuit but also a learning experience about safety and navigation.
Here are some points to keep in mind while navigating these enchanting waters:
Map Reading: Before starting your kayaking expedition, it's essential to have an understanding of how to read water maps for better navigation.
Safety Gear: Helmets, life vests, and water shoes are non-negotiable. Safety gear is an imperative aspect that should never be overlooked.
Communication Devices: Ensure you carry water-resistant communication devices. This can come in handy during emergencies.
Weather Check: Always check weather forecasts before heading out on your excursion. Conditions can rapidly change when on open waters.
One shouldn't forget that unpredictable challenges often arise while paddling down these serpentine routes! From sharp turns and rapids to encounters with wildlife, each bend in the river brings its own distinctive marvels!
Immersed in Nature's Grandeur
Kayaking offers an unrivaled view of nature's spectacle - every twist and turn reveals panoramic landscapes brimming with diverse flora and fauna.
Here's a quick rundown of some captivating sights I managed to spot while indulging myself in Red River Gorge Kayaking:
Emerald Canopies: Overhead, lush treetops form intricate patterns against azure skies - nature's masterpiece indeed!
Wildlife: Look closer; you might spot deer quenching their thirst by the riverside or even glimpse bald eagles soaring above in their majestic flight.
Underwater marvels: The clear waters often provide scenic views of small fishes zipping around submerged rocks.
Remember, it's one thing to list down these experiences on paper but witnessing this enchanting world of riverside wilderness enlivens every shred of your being. There's no substitute for the thrill and awe that only Red River Gorge Kayaking can offer! It's more than a sport - it's an intimate dance with nature where you're humbled by her magnificence at every stroke.
Highlights of Red River Gorge Kayaking
When it comes to Red River Gorge Kayaking, there are so many aspects that make the experience genuinely enchanting. The ambiance and beauty it offers perfectly exemplify what being in nature should feel like! Here, I'll discuss two main highlights that left the most memorable impressions on me.
Spellbinding Scenery
While every inch of the Red River Gorge is a sight for sore eyes, its distinct natural topography seems even more striking when viewed from a kayak. It's difficult to put into words how spectacularly mesmerizing kayaking down this waterway is, but let's try!
Canyon Views: The literal high points of Red River Gorge Kayaking are unquestionably its majestic canyon views. The towering sandstone cliffs sprouting from either side of the river and framing endless skies is awe-inducing!
Serene Forests: Beyond canyons and within your reach are lush thickets punctuated with bursts of colorful wildflowers thriving near the riverbanks.
Sunset Splendor: If you time your trip just right, you'll be treated to a sublime sunset spectacle that will fill your heart with warmth.
The whole journey feels like an inspiring canvas painted by Mother Nature herself!
Unique Attractions along the Route
Red River Gorge isn't just about beautiful views; it also offers unique attractions along its kayaking route that ignite any adventurer's spirit:
Natural Bridge arch: One cannot miss out on experiencing this famous geological formation. This vast natural sandstone arch is glorious and instills an enchanting sense of tranquility when viewed from below during your kayaking adventure.
Wildlife spotting: Keep an eye out for various animal species, such as white-tailed deer, raccoons, bobcats, or even black bears! Remember to maintain a safe distance while enjoying their natural habitat in action.
Campship Cliffs: These steep cliffs are favorite spots for thrill-seekers looking to dive or jump into the crystal clear waters below - a real adrenaline punch for many!
The Red River Gorge kayaking route is full of surprises. Every turn brings a new sight to behold, making it an unparalleled nature immersion experience. No wonder it is often referred to as the "hidden gem," as it always leaves one desiring another visit!
FAQs
What is the best time of year for Red River Gorge kayaking?
The ideal times to embark on a Red River Gorge kayaking adventure are Spring and Fall. These seasons provide great weather conditions and let you experience nature in full bloom or vibrant fall colors.
Is there any special equipment required for kayaking in Red River Gorge?
Basic kayaking gear like paddles, safety vests, helmets, and suitable clothing are necessary. However, due to the calm waters, no extreme adventure equipment is needed.
Do I need to have previous experience in Kayaking to explore Red River George?
While prior experience helps, it's not mandatory for Red River Gorge Kayaking. Beginners can opt for guided tours or introductory classes provided by local services.
Are there guided tours available for novice explorers?
Absolutely! There are multiple local outfitters that offer guided tours. These tours help beginners navigate the river while also pointing out key features of this hidden gem.
Conclusion
In my eyes, the escapade of Red River Gorge Kayaking is nothing short of breathtaking. It intertwines the thrill of adventure with an immersive nature experience, creating an unforgettable journey. From staggering natural formations to bustling biodiversity, it's a true hidden gem that captivates your heart. The adrenalin rush while navigating through wild waters and basking in scenes of spellbinding beauty is truly worth it. Unique attractions on the route just add another layer to this riveting experience.
Key Takeaway Points
The Red River Gorge is a natural wonder boasting majestic scenery and rich biodiversity.
Safety protocols and proper equipment are crucial for Red River Gorge Kayaking.
Navigating waterways requires skill but yields rewarding encounters with nature's grandeur.
Exclusive attractions along the kayaking route make each trip unique.