Verde River Kayaking Destination: Why Is It Unique?
Updated On: October 29, 2023
From the scenic views of towering cliffs to the rush of racing rapids, the Verde River kayaking destination has a lot to offer both for neophyte and experienced paddlers. There's just something spectacular about navigating your way through its rolling currents under Arizona's bright blue sky.
If you're yearning for that unforgettable adventure and are keen on exploring the Verde River by kayak, this post is specially crafted for you. Aside from being hailed as one of the country's last free-flowing river systems, Verde River enchants every kayak enthusiast with its unique geography, diverse wildlife, and year-round kayaking opportunities- all draped in Mother Nature's canvas of breathtaking beauty.
Here's What You'll Discover:
Untold secrets behind choosing Verde River as your ultimate kayaking destination.
Crucial tips on how nonpareil each season can be when it comes to paddling adventures on the Verde River.
Comprehensive guidelines for planning your trip focusing on safety measures and essential gear requirements.
A sneak peek into my own exhilarating experiences while kayaking the scenic Verde River!
Why Choose Verde River: The Ideal Kayaking Destination?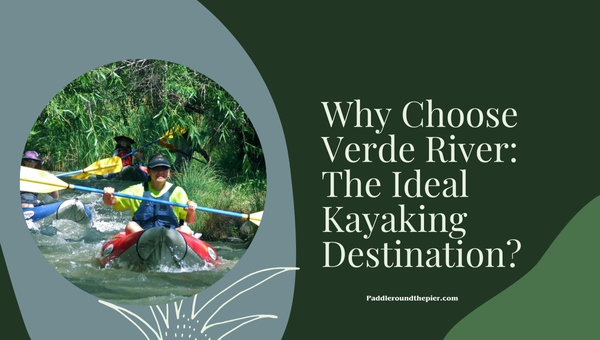 All combined, these unique elements make the Verde River a veritable paradise for those exploring the Verde River by kayak.
Unique Geography
The Verde River kayaking destination is a wonder to behold. There are plenty of reasons why it's the most sought-after kayaking spot, but let me take you on a quick trip around its remarkable geography.
The river runs about 190 miles through the heart of Arizona, offering a mishmash of scenic landscapes that range from lush green forests to desert vegetation.
The river's course varies from gentle flat waters to exciting Class II rapids, making it an adventure playground for novice and experienced paddlers alike.
Numerous side canyons provide an opportunity for exploration, and each bend holds hidden gems like natural hot springs and ancient cliff dwellings.
Diverse Wildlife
What would kayaking be without some wildlife spotting? Luckily, paddling adventures on the Verde River have plenty in store:
One can encounter diverse bird species, such as bald eagles, hummingbirds, and elusive herons. It's not unusual to see them swooping down for fish or lazily sunning themselves on riverside branches.
On land, keep an eye out for Javelinas or even bobcats who come down to quench their thirst at the river edge.
Aquatic life isn't left behind, either! Frogs decorate lily pads while bass dart underneath your kayak in these clear waters.
Kayaking here offers much more than just paddling; it's a nature walk on water!
Seasonal Benefits
One fantastic thing about this destination is that there isn't a "bad" time for kayaking on the Verde River. Here's why:
Spring unveils vibrant wildflowers along the banks, which are mirrored perfectly in glass-like calm waters before summer heat kicks in.
Summer months bring high water levels, providing thrilling, rapid rides. It becomes an ideal time for families and group outings as the river's temperature provides a perfect escape from Arizona's desert heat.
Fall dyes the riverside foliage in fiery reds and oranges, while the winter offers quiet solitude to those brave enough to face lower temperatures.
This variety makes Verde River a year-round haven for kayaking enthusiasts!
Also Read: Inflatable Flamingo: Understanding the Popularity
Planning your Trip to The Verde River
When it comes to the ultimate outdoor adventure, especially for those who love water and wildlife, nothing can beat the Verde River kayaking destination. With a blend of thrills and tranquility, this journey offers an extraordinary bonding session with nature. Here are a few essential things to consider while planning your trip.
Best Time for Kayaking
Maybe you're wondering when is the best time for kayaking on the Verde River? Well, that's the charm of this location - every season has something unique and captivating to offer.
Spring (March through May): The spectacular display of wildflowers along the banks enhances the divine beauty. It's also an ideal time for birdwatchers with migratory species making their joyful presence felt.
Summer (June through August): With temperatures reaching upwards of 100 degrees, most people prefer early morning or evening trips. If you're a thrill-seeker yearning for impactful rapids, summer's higher water levels due to monsoon rains are quite exciting!
Fall (September through November): The landscape transforms dramatically with golden-hued foliage setting in—a serene time to explore nature while gliding on calm waters.
Winter (December through February): Bring out those warm paddling gear. You may get lucky enough to catch glimpses of bald eagles during their nesting months!
Safety Measures
No matter how much fun it seems, never forget – safety first! Here's my shortlist dedicated purely towards ensuring safe paddling adventures on the Verde River:
Guided tours: If you're new to this spot or simply lack confidence in rowing independently yet wish to kayak the scenic Verde River, guided tour services provide safety and share interesting facets of this incredible ecosystem.
Lifejackets: Regardless of how good a swimmer you are, don't be tempted into leaving safety behind! Lifejackets are a must-have to keep you safe amidst any unforeseen situation.
Stay Hydrated: Packing adequate water is essential, especially during the sizzling summer months.
Wildlife Interaction: The river plays host to some striking wildlife – remember, it is their home first. Maintain your distance and show respect.
Weather check: Always cross-verify with the local weather forecast before embarking on your journey.
Essential Gear Required
A trip down Verde River can be magnificent if done right, and part of doing it right means packing the correct gear:
Personal Flotation Device (PFD): It's more than a just-in-case scenario; it's necessary gear. Opt for one that fits well without restricting movements.
Helmet: A firm-fitting helmet can prove lifesaving if caught in rapid white waters or sudden weather changes.
Sun Protection: Never underestimate Arizona's sun! Pack hats, sunglasses, and ample sunscreen lotion to guard against harsh rays.
Waterproof Bag: Electronics like cell phones or cameras need added protection against watery mishaps!
Remember, you needn't own all these gears; look out for Verde River kayak rentals around that offer dependable service and quality equipment at reasonable prices.
With all these considerations in place while planning your trip to the stunning Verde River kayaking destination, you're set for one memorable escape from nature!
Also Read: Unveiling What Paddle Boards are Made Of: An Expose
My Personal Experience with Verde River Kayaking
My experiences with Verde River kayaking offered me spectacular sights of wild landscapes, adrenaline rushes from navigating rapid currents, and a deep sense of tranquility only nature can provide. It has been a journey filled with memorable moments and the joy of connecting deeply with nature.
Memorable Moments
Kayaking on the Verde River is more than just a paddling adventure; it's a manufacturer of memories! Here are some moments that stand out from my past exploits:
The First Paddle: I'll never forget the first time my paddle sliced through the pristine waters. Excitement mixed with slight anxiety gave way to euphoria as I realized that I was exploring the Verde River by kayak for real!
Wildlife Spotting: The verdant banks hustle and bustle with diverse wildlife. From herons adroitly catching their meals to playful otters skimming along the surface – every encounter fuels my passion for this unique place.
Twilight Tranquility: One evening, as dusk painted vibrant hues across the sky, I took a pause from paddling. The river responded in kind — flowing listlessly while echoing distant animal howls. That quiet moment amidst fading light was nothing short of magical.
Remember, though, each experience on Verde river kayaking trips is distinct, and you are bound to create your own unique set.
Connection with Nature
While exploring Verde River by kayak, you expose yourself to an unfettered dose of both adventure and therapy — courtesy of Mother Nature herself! Here's what that connection does:
Sanctuary for Serenity: The rhythmic motion of paddling coupled with whispering winds carves out a peaceful ambiance. It truly helps to rebalance mental energies in these tranquil surroundings.
Health Boosts: Apart from fostering calmness, kayaking promotes cardiovascular fitness and muscle strength — particularly for your arms and core!
Eyes Feast on Fluid Art: Nature's unparalleled beauty on the Verde River offers inspiration aplenty. From overhanging trees mirrored in clear waters to sun rays dancing off rippling currents, every view is picture-worthy.
In a nutshell, the Verde River kayaking destination is not just an outdoor spectacle; it's an immersive experience. It gifts us moments that teem with joy and adventure while infusing peace into our hurried lives. Whether you're seeking adrenaline or tranquility, I promise that kayaking the scenic Verde River will meet - if not exceed - your expectations.
FAQs
What level of kayak skill is recommended for navigating the Verde River?
The Verde River can accommodate all skill levels, from beginners to experts, depending on the specific section you choose to tackle.
What kind of temperatures/weather conditions can be expected at different times of the year?
Summers are hot, with temperatures often exceeding 90°F (32°C), while winter temperatures drop below freezing at night. The monsoon season in late summer brings occasional yet dramatic storms.
Are there any unique features or biodiversity that make 'Verde River' a unique place?
Yes, the Verde River boasts a diversified ecosystem with species like bald eagles and river otters. Its verdant landscape and thrilling rapids set it apart, too.
Where can I rent the necessary equipment or recruit local guides at Verde River?
Numerous outfitters offer equipment rental and guide services around towns close to the River Verde, like Cottonwood and Clarkdale.
Conclusion
Exploring the Verde River by kayak, appreciating its unique geography and diverse wildlife. Choosing the best time for kayaking on Verde River and preparing with essential gear. And thoroughly seasoning my spirit with unforgettable paddling adventures, I can enthusiastically affirm that the Verde River is a paddlers' paradise.
Verde River kayaking is not just about paddling in serene waters, it's about connecting deeply with nature, having memorable experiences, and feeling a profound sense of tranquility. If you haven't soaked your paddle in her green depths yet, you're missing out on a must-have adventure in your life's journey.
Key Takeaway Points
The Verde River is an exceptional kayaking destination known for its unique geography and diverse wildlife.
Knowing the best time for kayaking on the Verde River takes your adventure to another level.
Having all the necessary gear ensures a safe and enjoyable trip.
Each paddle stroke makes unprecedented memories while also fostering a deep connection with nature.