Weeki Wachee Kayaking: Unleash Your Adventurous Spirit
Updated On: October 29, 2023
Attention, fellow adventure enthusiasts! My first-hand experience at the Weeki Wachee kayaking location made me realize what a gem it truly is for all you avid kayakers out there. Amidst the hustle and bustle of our busy lives, this little piece of paradise in Florida offers a spectacular getaway. It's not just the thrill of maneuvering your kayak through its warm, clear waters but also cherishing the splendid natural surroundings that had me spellbound completely.
There's no denying that paddling adventures in Weeki Wachee are the perfect blend of tranquility and excitement. Over time, I found myself getting addicted to not just kayaking but also breathing in the fresh air amid lush greenery, with the pristine waters reflecting everything so beautifully. Trust me when I say this - whether you are an expert kayaker or venturing into these waters for the first time, the unique charm of Weeki Wachee doesn't fail to impress!
What You'll Acquire Here
Discovering why Weeki Wachee is your next dream kayaking location.
Unveiling what makes Weeki Wachee different from other locations.
Stepping up your paddle game with insightful tips on equipment and understanding water currents.
Feeling every bit of nature's beauty through my personal experiences at Weeki Wachee.
Nailing down crucial safety measures and timing your visit perfectly for an unforgettable first-time experience at Weeki Wachee.
Exploring the Weeki Wachee Kayaking Location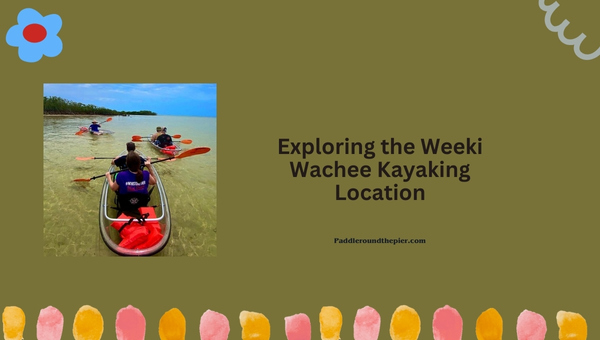 Weeki Wachee, a natural wonder tucked away on Florida's west coast, is blessed with crystal-clear spring waters and deep-green trees that are straight out of a storybook. This magical spot is more than just beautiful scenery – it's also a playground for outdoor enthusiasts.
A Natural Paradise
When you think of paradise, what comes to mind? For me, it's Weeki Wachee. Here's why:
The crystal-clear waters captivate every visitor with their transparency. On quiet days, you can see spongy plants moving gently on the water bed or small fish darting around.
The lush greenery surrounding the river enhances the experience. Giant oaks and floppy cypresses bend over the waterways as if quietly whispering secrets to the babbling river.
Let's talk about wildlife! From melodious birds that break dawn's silence to playful manatees gliding beneath your kayak, there are plenty of wildlife encounters on the Weeki Wachee River.
Weeki Wachee truly envelops you with its natural charm!
Perfect for Kayakers
The Weeki Wachee kayaking location is nothing short of heaven for paddlers like us! I found multiple reasons that make this spot perfect for kayaking:
Calm Waters: Imagine effortlessly cruising along a route where clear blue-green waters meet an emerald green canopy overhead pierces serenity.
Picturesque Views: There is an undeniable aesthetic value in observing nature from such proximity: peeking turtles sunbathing on logs, vibrant aquatic vegetation glowing through crystal-clear currents - all combining to paint unique tableaux at each turn!
Adventure opportunities: From leisurely paddling adventures in Weeki Wachee to testing your skills against mild currents downstream – adventure awaits around every corner!
In short, a kayak trip at this location is as rejuvenating and invigorating as they come. Weeki Wachee kayaking offers you the opportunity to see the world from a new perspective, accompanied by an idyllic soundtrack of rustling leaves and bird songs. Trust me, it doesn't get better than this!
Also Read: Paddle Board Size Guide: How To Pick The Perfect One For You
What Makes Weeki Wachee Unique?
Florida is endowed with numerous picturesque locales, but for me, the Weeki Wachee kayaking location stands a cut above the rest. I attribute this uniqueness to its natural spring-fed waters and the diverse wildlife that thrives in this biological hotspot.
Naturally Spring Fed Waters
The centerpiece of my paddling adventures has always been the crystal-clear waters of Weeki Wachee. I could spend a lifetime here just marveling at nature's majesty. Here's why:
Spring-fed magic: The most par-excellence aspect of Weeki Wachee is that it's fed by natural springs, keeping the water refreshing and exceptionally clear all year round.
Clarity so precise: Due to this constant inflow from underground springs, I've observed that visibility underwater remains strikingly impressive, even during my longest kayaking expeditions.
Nature purified: All these factors play their part in making Weeki Wachee an incredibly pure and pristine aquatic environment, something not commonly found elsewhere.
Diverse Wildlife
If you're someone like me who gets thrilled by up-close encounters with diverse wildlife species, you're in for a surprise! Here's what often accompanies me on my paddles:
Friendly manatees: Undoubtedly one of my favorites! During certain times of the year (especially winter), you can regularly spot these gentle giants basking near the warmer spring vents.
An aviary exhibition: From ospreys and egrets to herons and ibises — birdwatchers would absolutely love these winged companions on their journey!
Reptilian rendezvous: It isn't quite Florida without our scaly friends – turtles, and alligators have been some other exciting sightings during my kayak trips at Weeki Wachee!
So there you have it - naturally, pristine waters teamed with some fantastic encounters from the animal kingdom are what makes the Weeki Wachee kayaking location a must-visit destination for me and, hopefully, for you too!
Preparing For Your Kayaking Adventure At Weeki Wachee
To make your paddling adventure in Weeki Wachee enjoyable and safe, it's vital to come prepared. Here are essential factors to consider:
Choosing The Right Equipment
When it comes to gearing up for a kayaking expedition, the importance of selecting quality equipment cannot be overstated. But what gear do you need specifically for the Weeki Wachee kayak adventure? Here are my top recommendations:
A Good Kayak: There are many types of kayaks out there – whitewater, touring, inflatable, etc. For Weeki Wachee's calm, spring-fed waters, though, a sit-on-top kayak would be an excellent choice.
Comfy PFD (Personal Flotation Device): Safety is paramount when you're on a water trip. Invest in a comfortably fitting PFD that won't hinder your movement.
Paddle: An adjustable paddle that suits your height and stroking style can significantly enhance your comfort level during the journey.
Appropriate Clothing: Wear synthetic clothing as they dry quickly, and keep sunscreen handy to protect against the Florida sun!
Extra Tip: You can find great options at local Weeki Wachee kayak rentals if you'd rather not bring your equipment.
Understanding The Water Currents
Though known for its tranquility, don't underestimate the importance of understanding currents when paddling at our lovely Weeki Wachee kayaking location:
Be Aware of Your Surroundings: Stay alert around turns or narrower sections where the current might speed up unexpectedly!
Avoid Downed Trees or Obstructions: These could create hazardous situations owing to fast heading currents towards them.
Abort Mission if Required: If you find yourself struggling against powerful currents making progress difficult, don't hesitate to pull ashore safely and call it a day.
Pro tip: The best time for kayaking at Weeki Wachee is early in the morning when the wildlife is most active and crowds are minimal. Happy Paddling!
Also Read: Mastering Paddle Board Maintenance: The Essential Guide
Personal Experiences At Weeki Wachee
The Weeki Wachee kayaking location is not only perfect for a thrill-filled adventure but also presents opportunities to witness Florida's wild beauty in a close and personal way. My experiences are certainly memorable moments that capture the very essence of paddling adventures in Weeki Wachee.
First-hand Collisions With Nature's Beauty
Every time I recall my kayaking encounters, memories of manatees always take center stage. These large, utterly gorgeous marine mammals are gentle giants that occasionally surface for air, eliciting moments of awe from surprised kayakers, including myself. Their peaceful nature and grace add an entirely different hue to the overall experience at the Weeki Wachee River.
Manatee Encounters: During my treks through these waters, I have had several chance meetings with manatees, which are almost always an enchanting surprise.
Birdwatching: The trees dotting the riverbanks serve as shelter to a stunning array of bird species. Spotting their vibrant hues is such a visually gratifying experience!
Experiencing Sundown: Afternoons on the water transform into spectacular shows during sundown. The changing colors of the sky mirrored on the river's surface have left me speechless multiple times.
Navigating Through Clear Waters
At first sight, it may seem as though one is gliding across a massive mirror reflecting Florida's luscious greenery. That's how pristine these spring-fed waters really are! This transparency doesn't just add to scenic beauty but also provides superb underwater visibility.
Scenic Serenity: Being able to see right through crystal-clear waters while paddling fiercely against gentle currents - if this isn't serenity, then I don't know what is!
Underwater visibility: Snorkeling becomes much more exciting when you can literally see aquatic life kicking about their everyday chores beneath you. Be prepared to be amazed by varied species of fish, turtles, and more.
Kayaking the crystal-clear waters of Weeki Wachee indeed provides the perfect blend of relaxation and invigoration that nature lovers crave!
To put it simply, my time spent within this natural paradise has been nothing short of pure bliss. Each visit to the Weeki Wachee kayaking location has fortified my belief that a true connection with nature can instill lasting peace and happiness.
Also Read: Balance Board Training Expert Tips to Unleash Your Potential
Tips For First-Time Kayakers at Weeki Wachee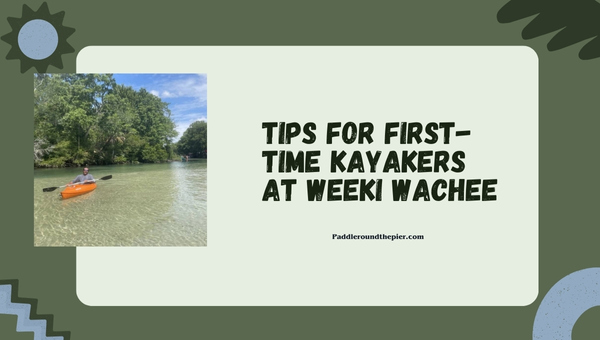 Diving into your first kayaking experience at the fantastic Weeki Wachee kayaking location can be exhilarating, but a touch of preparation wouldn't hurt! Here are some crucial tips to ensure an unforgettable and safe paddling adventure in Weeki Wachee.
Safety Tips
Embarking on your maiden kayaking journey at Weeki Wachee? Here's what you should keep in mind:
Review Basic Kayaking Skills: Before anything else, make sure you are confident with basic kayaking skills. If not, consider taking a beginner's course or studying from reliable online sources.
Be Aware of Your Surroundings: While paddling through the stunning waterways of Weeki Wachee, it's important to be aware of possible hazards such as tree roots or sudden drops. This will ensure a safe and smooth sail through these waters.
Invest in Good Quality Gear: This includes a comfortable life jacket and sturdy oar. Both should fit well and be suitable for weather conditions at Weeki Wachee.
Emergency Preparedness: Understand basic emergency protocols in case something goes wrong. This includes knowing how to do a wet exit from your kayak.
These safety tips serve as a lifeline for all those stepping into the enticing world of Weeki Wachee kayak rentals and adventures.
Best Time To Visit
Timing is key when planning your first paddle adventure at the awe-inspiring Weeki Wachee River:
Beat The Heat: To avoid the scorching Florida sun, consider launching your paddling adventure early in the morning — that's when nature is most active anyway!
Avoid The Crowd: If solitude is more your scene, then weekdays may be a choice time for visiting this fantastic place. Tourists flock during weekends, turning our peaceful paradise into a bustling hub!
Watch Out For Weather: Sudden rains or hurricanes can dampen your plans. It's always best to check local weather forecasts before setting out.
Remember, the most rewarding paddling adventures in Weeki Wachee happen when you balance the sweet spot between great weather and manageable crowd sizes. With these guidelines, I am confident that you will relish your memorable first tryst with the crystal-clear waters of Weeki Wachee! Happy kayaking!
FAQs
What are the operating hours for Weeki Wachee Springs State Park?
Weeki Wachee Springs State Park operates from 8 a.m. until sunset, seven days a week.
Is it safe to kayak at Weeki Wachee for beginners?
Yes, Weeki Wachee is safe for beginners due to the gentle current of the river and easy navigability. However, it's always good to carry necessary safety gear.
Can you bring your own kayak to Weeki Wachee?
Absolutely! You're free to bring your own kayak. Additionally, there are also numerous options for Weeki Wachee kayak rentals in the area.
What wildlife can you encounter while kayaking at this location?
Kayakers might encounter manatees, otters, birds, and several species of fish during their paddling adventure.
Conclusion
After exploring the enchanting Weeki Wachee kayaking location, it's clear that this natural treasure offers unique experiences and adventures. There's something about paddling through the crystalline spring-fed waters and coming face-to-face with an abundance of wildlife that simply can't be replicated anywhere else. Paddling adventures in Weeki Wachee are more than just recreational activities; they constitute immersive encounters with nature at its finest. Weeki Wachee is indeed a paradise for all kayaking enthusiasts out there!
Key Takeaway Points
Weeki Wachee offers scenic beauty unparalleled by any other kayaking locale.
The crystal-clear, spring-fed waters provide perfect conditions for safe yet adventurous paddling.
It hosts a rich variety of wildlife, offering unique encounters every time you paddle through.
The right equipment selection and understanding of the water currents are crucial for a safe and gratifying kayak experience.