Unforgettable Apostle Islands Kayaking Trip Essential Guide
Updated On: October 29, 2023
Ah, the excitement of setting out on a new adventure! And it won't be just any run-of-the-mill journey because you are going to plan an Apostle Islands kayaking trip. Nestled in the shimmering waters of Lake Superior, in northern Wisconsin, these islands offer a potent mix of unspoiled beauty and intriguing history. Let's not also forget about sparkling clear blue water that whispers promises of unforgettable experiences.
For those who haven't heard about it or maybe seeking more valuable information on organizing a memorable kayak trip to the Apostle Islands, you've landed at the right spot! Engulfed by the rhythmic waves and unique geographical wonders, a kayak ride here can provide a soul-captivating experience only rivaled by a few other places worldwide.
What You'll Learn Here
Amazing facts about the Apostle Islands' history and geographical uniqueness.
The top attractions awaiting your discovery on your Apostle Islands kayaking trip.
Insightful tips for planning an exciting kayak trip to these stunning isles.
Advice for packing essentials for your adventurous journey.
Understanding Apostle Islands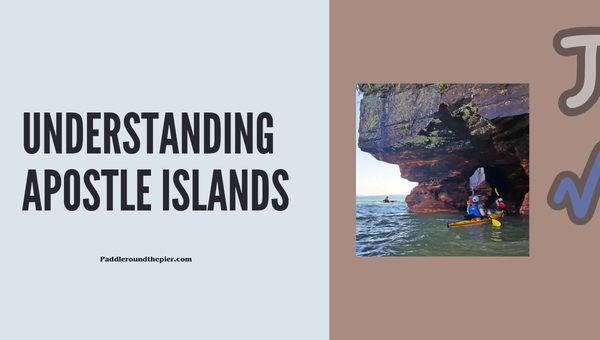 Unveiling the geographic beauty and rich history of the Apostle Islands is quintessential to properly appreciate my adventures on an Apostle Islands kayaking trip.
Exploring the Geographic Beauty
Nothing scratches my adventure itch quite like the stunning geography of the Apostle Islands. Located in Lake Superior, Wisconsin, this group of 21 pristine islands invites me with its breathtaking sapphire-blue waters and towering sandstone cliffs. As I paddle through restless waves around intricately chiseled sea caves, I can't help but feel entranced by their haunting beauty.
Notable points about Apostle Island's geography include:
Sandstone Cliffs: These radiant bronze cliffs are carved by eons of wind and water activity.
Sea Caves: Not just a feast for the eyes, these caves offer a playground for me when kayaking.
Lush Forests: Dense tree lines cover many islands providing cool relief from the summer sun.
White Sand Beaches: They make marvelous spots to pitch camp and rest during kayak trips.
History and Significance
Any devoted enthusiast planning an Apostles Islands kayak trip should delve into its rich historical tapestry. This alone transforms an everyday excursion into stepping stones across centuries.
The contributor to their historical significance includes:
Native American Heritage: The islands were home to native tribes like Ojibwe, leaving behind cultural landmarks.

The wilderness here whispers stories of victorious battles led by Chief Namakagon.
Artifacts dating back hundreds of years paint a vivid history.

Fishing Industry: Early European settlers launched booming fishing industries on these waters in the mid-to-late 1800s.

Historic fishing camps still dot Island shores.

Lighthouses: Serving as navigational aids since the 1850s, six lighthouses stand as a testament to maritime history.

Taking guided tours of these beacon towers is a great addition to my kayak trip.

National Lakeshore Designation: In 1970, Apostle Islands were designated a National Lakeshore. It helped preserve the natural, historical, and recreational values for present and future generations.
Familiarizing myself with this emblematic history makes every paddle stroke on my Apostle Islands kayaking trip feel like flipping pages of a dusty old tome.
Also Read: Unveiling What Paddle Boards are Made Of: An Expose
Exciting Parts of an Apostle Islands Kayaking Trip
As grand as the history is, no Apostle Islands kayaking trip is complete without tricks up one's sleeve. Ride along as we plunge into some thrilling experiences these islands hold.
Navigating through Sea Caves
An undoubted highlight of my Apostle Islands kayaking trip, the sea caves offer me an unparalleled sense of curiosity and exploration. The mottled sandstone facades carved deep by relentless waves echo whispers from eras long past, inviting me deeper into their mysterious serenity.
Navigating through these labyrinthine networks –some open to winds while others cloaked in darkness– does demand our respectful caution. Remember:
Stay close to cave entrances unless you are an experienced kayaker.
Beware of sudden water level changes due to wave swells.
Always wear a helmet for protection against low-hanging ceilings or dripping stalactites.
Be mindful that summer brings calm waters, but winter turns caves into ice sculptures.
Wildlife spotting
An Apostle Islands kayak trip isn't just about viewing landscapes; it's gaining first-row seats to Mother Nature's cinematic wildlife display. From playful otters cracking clamshells on their bellies to bald eagles cutting solitary figures against clear blue skies - each paddling journey is like thumbing through a wildlife encyclopedia.
Some wildlife encounters could include:
White-tailed Deer: You'll easily spot them amid lush forests or near inland lakes.
Red Fox and Coyotes: Keep a lookout on shores for these fur-coated marauders rummaging for food.
Bald Eagles: Nothing spells America quite like sighting this symbol of power and freedom.
Protecting their peace during encounters enriches your experience while maintaining the ecology essential during any kayak trip to the Apostle Islands.
Also Read: Top Paddle Board Accessories: Essence and Must-Haves in 2023
Planning Your Apostle Islands Kayaking Trip
Every year, thousands of individuals venture out to plan their "Apostle Islands kayaking trip." Nestled in the northwestern corner of Wisconsin, this place is a voyage for anyone who relishes the blend of exploration and adrenaline. From its rugged sea caves to scintillating wildlife spottings, every paddle along the journey has something unique to offer. As someone who's been enchanted by its allure firsthand, let me help you design your trip.
When to Go
Timing is a crucial ingredient for an engaging "Apostle Islands kayaking trip". The ideal moment can transform your sea escapade into an unforgettable experience. Here's how the calendar unfolds at Apostle Islands:
Spring (April - June): Unlike popular belief, Spring here doesn't promise bloomy cherry blossoms! This season introduces thawing chilly winds that may wreak havoc on unprepared kayakers. Not my top recommendation unless you're looking for extreme challenges.
Summer (July - September): Now we're talking! This is essentially when Apostle Island is at its prime charm! The weather during these months balances warm afternoons with charismatic evenings that are perfect for both die-hard enthusiasts and sporadic canoeists.
Autumn (October - Early November): If you are captivated by fall colors painting landscapes, then Autumn should be your pick! Remember, though, Lake Superior can start to get chillier approximately around mid-October.
Winter (Late November - March): I would only suggest this season if ice caves are your endgame fascination.
Evidently, Summer and early Autumn would be my strong preference due to moderate weather conditions making it safe and enjoyable!
Practical Tips for Planning Your Trip
Successfully planning an "Apostle Island kayak trip" entails much more than just knowing when to go. Below are some other aspects to consider:
Selecting a Guide: Having a local guide is like having your very own "Apostle Islands kayaking guide." Even for experienced paddlers, Lake Superior can be unpredictable, and an expert who knows best is imperative. Numerous companies offer guided tours and can tailor the experience based on individual or group skill levels.
Equipment Rentals: Instead of managing to shove your personal kayak in a suitcase, it would make more sense to use "Apostle Islands kayak rentals". These agencies provide properly equipped kayaks designed specifically for these waters.
Safety First: Although the Apostle Islands offers exhilarating experiences, it's paramount that you respect Mother Nature. Always carry location maps, portable shelters, waterproof bags for personal belongings and other emergency gear during your outing.
Physical Preparedness: Last but most important is ensuring we're physically prepared. It's one thing relishing the idea of an adventurous paddle across cold waters against potential headwinds vs actually doing it!
The Apostle Islands hold grandeur stories in every ripple of its clear blue waters studded with shimmering sun-kissed beaches! Now, as planning starts on your end for an unforgettable kayaking trip here, remember what I said about Summer and autumn while browsing through your calendar! Be safe out there, folks! Happy Kayaking!
Also Read: Inflatable Flamingo: Understanding the Popularity
Packing Essentials for Your Apostle Island Kayak Trip
When it comes to an Apostle Islands kayaking trip, just as important as picking the right time of year and planning your route is ensuring that you're well-prepared with all the necessary gear. There's a wide range of items essential to support your experience on this aquatic adventure– and I'm here to break them down for you:
Kayak and Paddle: This is a no-brainer. Make sure to use a sturdy kayak suited for sea conditions. If you don't own one, there are Apostle Islands kayak rentals available throughout the region.
Wetsuit/Drysuit: Depending on the time of year you plan on embarking upon your journey, a wetsuit or drysuit is extremely beneficial in protecting against hypothermia should you end up in those chillier Lake Superior waters!
Safety Gear: Your safety kit should consist of a personal flotation device (PFD), helmet (if exploring caves), whistle, paddle float, bilge pump, and tow-rope.
Navigation Tools: Don't overlook these! A compass or GPS can prove to be one of your most useful tools out in the open water.
Proper Clothing & Footwear: Dress appropriately! Including layers such as wicking base layers and fleece mid-layers will maximize comfort alongside watertight footwear.
Camping Equipment & Permits: If partaking in an extended trip requiring camping overnight, ensure that necessary camping gear is accounted for—tent, sleep system (sleeping bag & pad), stove with fuel, and cooking equipment—as well as any required permits.
Hydration & Nutrition Supplies: Pack enough freshwater along with high-energy foods like trail mix or granola bars to refuel during breaks.
First Aid Kit: It's always crucially important to have basic first aid supplies on hand.
Sun Protection: Don't forget sunglasses, hats, and sunscreen—even if it seems cloudy, sun exposure can surprise you!
Remember, while embarking on this fantastic Apostle Islands kayaking trip, safety should always be your top priority. Happy paddling!
FAQs
What kind of weather can I expect during my Apostles Island kayak trip?
During the summer season, you can expect pleasant weather with temperatures averaging around 70-80°F. However, conditions on the water can be unpredictable, so it's best to check forecasts and prepare for all possibilities.
How difficult is sea cave kayaking at Apostle Islands?
While the difficulty level varies based on sea conditions and individual skill levels, an Apostle Islands kayaking guide could ensure a fairly manageable experience even for beginner-level kayakers.
Are there camping sites on Apostle Island?
Yes indeed! Apostle Islands National Lakeshore offers numerous campsites with beautiful lakefront views. However, please note that you would need to reserve spots in advance and follow park regulations to ensure a great camping experience during your kayak trip to the Apostle Islands.
Conclusion
From the adrenaline rush of navigating sea caves to the tranquil beauty of local flora and fauna, an Apostle Islands kayaking trip truly offers a unique adventure. With hundreds of years of rich history, breathtaking geography, and vibrant wildlife, it's a paradise for kayakers. Whether you're planning to kayak through crystal blue waters solo or with an expert guide, remember to follow my tips for optimal seasons and essential packing lists while planning your trip.
Key Takeaway Points
History and scenic splendor make the Apostle Islands kayaking trip alluring.
Safe navigation through sea caves is adrenaline-pumping.
Spot many species in stunning wildlife vistas aboard your kayak.
The best time for kayaking in the Apostle Islands is crucial for a remarkable experience.
Packing correctly amplifies the quality of your Kayak trip to the Apostle Islands.