Uncover Colorado Kayaking: Top 10 Must-Visit Spots
Updated On: November 21, 2023
Hey there, fellow adventurer! Are you just as enthralled by the serene beauty of gliding through clear waters, with nothing but the sound of a paddle's soft stir and Mother Nature's whispers? If the answer is yes, then boy, do I have a treat for you. Get ready to discover Colorado kayaking at its best!
Nestled within America's Rocky Mountains is a beautiful haven for kayakers – beautiful Colorado. With its vast array of rivers stretching across various terrains, aquatic explorers interested in paddling in the Rockies will find themselves spoilt for choice. This guide will showcase ten must-visit spots essential to your Colorado kayaking bucket list.
Here's What You'll Discover:
The thrill of navigating the whitewater of Animas River and Yampa River
A deep dive into Glenwood Canyon's Shoshone Rapids and what makes it a top pick
Insight into paddling Blue River's exhilarating routes
An intro to locals' favored spots- Clear Creek Whitewater Park & Poudre River Whitewater Park
Breathtaking views along Boulder Creek that elevate your kayak adventures in scenic Colorado
Expert tips on conquering Gore Canyon's challenging terrains
An exploration into Arkansas Headwaters Recreation Area's enticing features.
Discovering Colorado's Kayaking Treasures
When people think of Colorado, they often envision snow-touched peaks and vast alpine meadows. But nestled within the cradle of these Rockies is an oasis of glistening rivers and heart-pumping whitewater rapids waiting to be discovered – A paradise for paddlers like myself! That's right, we're talking about Colorado kayaking here.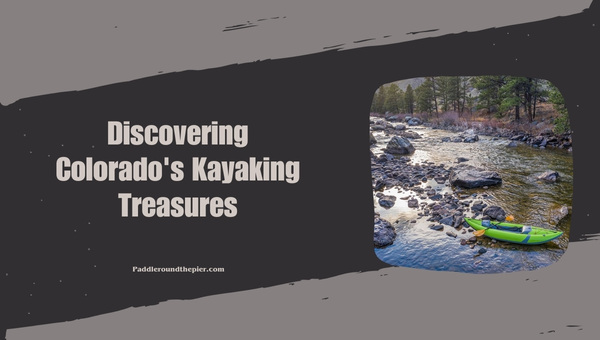 An Overview of Colorado's Kayaking Spots
Colorado kayaking brings a blend of adventure, natural beauty, and athletic challenges that are hard to beat. Here, you'll find a rich diversity in water conditions that start from tranquil lake paddles whisking you through captivating vistas all the way to adrenaline-spiking white water challenges meant for pro paddlers.
For beginners: If it's your first time with a paddle, don't worry! Several spots offer leisurely streams peppered with kayak rental options.
For the seasoned survivors: Is the thrill what gets your gears running? Then, brace yourself for some challenging tributaries cutting through scenic kayak routes around the state.
For nature lovers: If nothing soothes you better than kayaking amidst nature's placid grandeur, then Lincoln Lake or Emerald Lake should top your list.
So whether it's extreme sports or contemplative legendary sunset views piquing your interest in kayak adventures in Colorado, you're certain to find something that suits every taste across its vast network of navigable rivers and lakes.
But hold onto your life jackets because I'm about to deep dive into a roundup of Colorado's Ten most exciting kayaking spots waiting for you to explore. From river-raging thrill rides like Animas River at Durango to milder serene paddles down Yampa River at Steamboat Springs - this journey promises sheer exhilaration at every turn. Don't take my word for it, though; keep reading and let the adventure engulf you instead!
Also Read: Top Paddle Board Accessories: Essence and Must-Haves in 2023
Unleashing The Top Kayaking Spots in Colorado
These top-rated destinations for Colorado kayaking will feed your adventurous soul and immerse you in breathtaking natural beauty. From heart-thumping rapids to tranquil scenic routes, these kayak spots in the Rockies serve as the ultimate outdoor playground.
Animas River, Durango
Nestled within the southwestern part of Colorado, here's why Animas River took a spot on this list:
Its dramatic location is an allure. Encased by Durango's mountain ranges and towering cliffs, the river offers unparalleled panoramas.
It provides conditions that suit a variety of adventure levels, from wild white-water rapids for experts to a calmer downstream flow ideal for beginners.
The year-round accessibility adds to its charm, with changing landscapes offering distinctive experiences across seasons.
There's no denying that this is one of the best kayak destinations in Colorado primarily because it appeals to everyone, from seasoned paddlers to thrill-seeking adventurers.
Yampa River, Steamboat Springs
Yampa River beckons all with its exquisite beauty and exhilarating waterways. Here are some highlights:
Known for diverse terrains filled with boulders creating intense rapids during spring runoffs.
With well-marked paths and multiple access points along Route 40, accessibility is not an issue.
The allure towards adventure seekers lies not just with exciting whitewater but also in relaxing flat-water sections surrounded by lush vegetation.
Glenwood Canyon's Shoshone Rapids
Among the best places, you can indulge yourself in Colorado river kayaking! The Shoshone Rapids in Glenwood Canyon offer:
It is a perfect summer adventure due to its high water levels.
Intense class III rapids ensure adrenaline rushes.
An array of safety measures like guided tours and lifesaving training are available through professional services.
As you paddle down these rapids amidst magnificent geological formations, the thrill and beauty will leave you awe-inspired.
Blue River, Summit County
Blue River is another top pick among Colorado's ten kayaking spots. Here's why:
Its proximity to resorts like Breckenridge and Silverthorne makes it easily accessible.
It presents engaging challenges with sections of rapid waters interspersed with peaceful stretches.
It's more than just an adrenaline rush—thanks to the Gold Medal fishing status and breathtaking scenery.
Rio Grande River, Southern Colorado
The Rio Grande is a favorite for locals and tourists owing to its:
Diverse landscapes ranging from steep canyons to sandy valleys
Distinct sections suitable for both beginners and pro-kayakers
Various kayak rental options, keeping it budget-friendly
It is surely a place that captures quintessential Colorado kayaking experiences!
And the list doesn't end here! The next five intriguing spots include Clear Creek Whitewater Park in Golden, Poudre River Whitewater Park in Fort Collins, Boulder Creek in Boulder City, Gore Canyon of Upper Colorado River with extreme rapids for professionals, and the Arkansas Headwaters Recreation Area situated centrally in Colorado. Trust me when I say each one of these has distinct traits that elevate your paddling experience to whole new levels. Stay tuned as we dive deeper into what makes each unique!
Clear Creek Whitewater Park, Golden
Taking you through the heart of Golden is Clear Creek, Whitewater Park. The highlight reel includes:
Six man-made water features bundled within half a mile – ideal for practicing tricks or polishing skills.
Facilities equipped with spectator areas and recreational paths, incorporating elements for everyone's enjoyment.
An excellent mix of challenges and tranquility ensures an enriched kayak adventure in Colorado.
Poudre River Whitewater Park, Fort Collins
Making significant strides in recent years is Poudre River - an undeniable hotspot for Colorado kayaking lovers:
Renovations include the creation of new features crafted to enhance white-water activities.
Accessibility is offered to people from all walks of life, with ramps built for easier river entry and exit points.
Boasting both thrilling rapids and gentler waves, it is suitable for family outings.
Boulder Creek, Boulder
Eye-catching scenery combined with exhilarating river terrains put Boulder Creek on our list. What it offers:
A kaleidoscope of experiences from calming stretches lined by cottonwood trees to the adrenaline-rush-inducing "Boulder Falls" section.
Diverse wildlife sightings add another sensory layer to your paddling excursion.
Its location amidst Boulder City opens access to other outdoor enthusiasts like bikers, hikers, and picnic-goers.
Gore Canyon of the Upper Colorado River
Not meant for the faint-hearted, Gore Canyon packs extreme watersport thrills like no other place.
Expert-level class IV-V rapids guarantee nail-biting adventures guaranteed.
The Rustic Wilderness setting enhances the overall experience magnificently.
Known yearly races provide opportunities for you to observe professionals at play!
Pro-paddlers swear by this thrill-fest, and once you conquer it, you'd too!
Arkansas Headwaters Recreation Area, Central Colorado
This area gets a thumbs-up for offering top-notch rafting facilities that cater to a range of paddling enthusiasts.
Offering over 150 miles of gold-medal water suited for all experience levels.
Highly organized guided tours and amenity-packed campgrounds offer round-the-clock adventure opportunities.
Home to major events like the annual "FIBArk" (First in Boating on the Arkansas) festival.
A perfect blend of adventure and convenience that makes Colorado kayak outings simply memorable!
As we move towards ensuring an enriching Colorado kayaking expedition, let's gear upright! Being prepared not only ensures safety but amplifies your outdoor fun!
Also Read: Paddle Board Size Guide: How To Pick The Perfect One For You
Ensuring the Best Colorado Kayaking Experience
The allure of Colorado kayaking is beyond words. Yet, to ensure a truly unforgettable experience, proper preparation is key. Let's examine two pivotal aspects: getting the right gear and ensuring safety.
Gearing Up Right
Equipping yourself with the right gear is vital in ensuring both your safety and comfort during your kayaking adventure in Colorado. There's a multitude of gear you will need, some of which include:
Kayak: This would be obvious, but selecting the proper type for your excursion requires thought. Would you prefer an inflatable kayak or a hard shell? Your choices could also be influenced by factors such as whether it will be sea or river kayaking.
Paddle: The paddle's length should correspond to your height and the width of the kayak.
Personal Floatation Device (PFD): PFDs are life jackets designed specifically for paddlers, providing buoyancy should you capsize whilst offering unrestricted mobility while paddling.
Helmet: For whitewater kayaking enthusiasts, it's essential to protect your head from unexpected impacts with rocks in rapid waters.
Dry suit / Wet suit: Depending on weather conditions and water temperature in Colorado, opt for a dry suit or wet suit offering thermal insulation if required.
If you're not looking to buy all this equipment outright—which can be quite costly—there are various rental options available across the state. Numerous businesses offer rentals inclusive of all essential equipment at reasonable rates per day or per hour basis.
Safety Precautions
When conquering any new terrains in Colorado – safety precautions cannot be overlooked. Below are some dos and don'ts every kayaker should follow:
Always wear your PFD while on water.
Double-check all equipment before launching.
Be aware of potential underwater hazards like rocks or fallen tree branches.
Avoid fast-moving currents unless properly skilled.
Stay hydrated and protect yourself from Sun exposure.
Remember, the water can be unpredictable, so always have a plan and ensure you're aware of your surroundings. Additionally, get familiar with the Colorado state laws for kayaking before setting out on any adventure.
FAQs
What's the best time to go for Colorado kayaking?
The ideal time for Colorado kayaking is from late spring to early fall, when the weather is comfortable and water levels are favorable.
What are the safety guidelines to follow while kayaking in Colorado?
Key safety guidelines include wearing a personal flotation device, using appropriate gear, staying informed about weather conditions and water flow rates, and never exceeding your skill level.
What are some of the guided tours available for Colorado kayaking?
Several companies offer guided tours on rivers like Yampa, Arkansas, and Animas. You might also find themed tours offering wildlife viewing or sunset paddles.
Are there beginner-friendly kayaking spots in Colorado?
Certainly! Clear Creek Whitewater Park in Golden and Poudre River Whitewater Park in Fort Collins are ideal for beginners due to their mild rapids and safe terrains.
Conclusion
Having had the chance to paddle across numerous locations, I've discovered that there truly is no place like Colorado for kayaking. The scenic beauty, rapid-filled rivers and diverse terrains make Colorado kayaking not just an outdoor activity, but a remarkable journey into nature's finest spectacles.
The snow-fed rivers provide reliable water levels throughout most of the year making paddling in the Rockies a unique thrill. To sum it all up, the state has some of the best kayak destinations in line waiting for you.
Key Takeaway Points
Every river offers a distinct set of challenges and rewards displaying the diversity of Colorado's waterways.
Proper gearing and safety precautions can make your kayaking experience unforgettable.
From calm to adrenaline-pumping rapids, Colorado has something for everyone when it comes to Kayak Adventures.