Kayaking in Hilton Head Islands: Ultimate Adventure Guide
Updated On: October 30, 2023
Are you ready for a thrilling escapade? Paddle your way through the serene waters as we discuss the exhilarating experience of kayaking in Hilton Head Islands. Known for its unique combination of adventure and tranquility, this natural paradise should be on top of your list to satiate your sense of adventure and love for nature.
Whether you are an experienced kayaker or a beginner, Hilton Head Islands promises an unforgettable experience. In these waters, more than just riding the waves and honing your skills, the islands offer picturesque views and close encounters with wildlife that make every paddle worth it.
Intriguing Insights Await:
An introduction to the unique charm of kayaking in Hilton Head Islands
Discovering top spots to savor the kayaking experience
A comprehensive guide on necessary kayak equipment and safety gear
Tips to consider while preparing for weather conditions
Information on local rental shops where you can acquire your equipment.
Insights into Guided Tours for Kayking in Hilton Head Island.
Why Choose Kayaking In Hilton Head Islands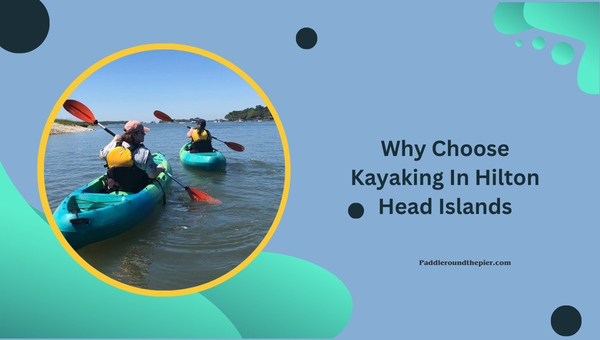 When you're looking for a tranquil escape rich in nature and wildlife, there's nothing quite like going kayaking in Hilton Head Islands.
Uniqueness of the Location
Hilton Head Islands offer unique aspects that make kayaking an unforgettable experience. Here are some points to consider:
Beautiful Scenery: One thing you'll definitely love is the beautiful, picturesque scenery. With its crystal clear waters gently rippling under your kayak, the lush green vegetation lining either side of the waterways, and a perfect blue sky up above, it's nothing short of breathtaking.
Numerous Waterways: The Island has several waterways to explore. You've got creeks, marshes, and countless inlets that make your kayaking expedition more exciting. You won't run out of places to go paddling!
Peaceful Environment: The environment on Hilton Head Islands is incredibly peaceful. It's not just a physical feeling but also a spiritual one as you peacefully glide along its waters.
Richness of Nature and Wildlife
Kayaking in Hilton Head Islands allows you to experience abundant nature and wildlife. Here's what awaits:
Wildlife Encounters: You might get up close with dolphins playfully swimming alongside your kayak or spot an osprey soaring overhead or even see stunning views of herons or egrets stalking their prey along the shoreline.
Flourishing Flora: Paddle among beautiful clusters of vibrant lilies or marvel at awe-inspiring views of towering live oaks covered in Spanish moss that line the creek banks.
Trust me; it's an enriching experience blending adventure with peace among nature's beauty which leaves everyone yearning for more.
Also Read: Unforgettable Apostle Islands Kayaking Trip Essential Guide
Best Spots for Kayaking in Hilton Head Islands
When I think about kayaking, some of my favorite destinations come to mind, but none quite like the Hilton Head Islands. With a unique array of locations, each with its own charm and highlights, you're guaranteed an adventure each time you set out on the water. Let's explore some of my top picks.
Broad Creek
Broad Creek is like an artist's painting that comes alive at sunset. Renowned for providing what might be considered one of the most captivating sunset experiences in the country, kayaking here feels more like a dream than reality.
The creek is wide enough to make it fun, even for novice paddlers.
Observing wildlife from your kayak during golden hour adds an entirely different dimension to kayaking.
If you time your visit right, witnessing dolphins cavorting just a few feet from your kayak will surely take your breath away.
One point I can't stress enough—you absolutely must stay until sunset. The way the beams play off the water's surface, creating myriad hues, is something that stays with you long after you've left these tranquil waters.
Jarvis Creek Park
As someone who values both thrill and serenity while kayaking, Jarvis Creek Park stands as one of my top recommendations, especially for beginners seeking calm waters.
Its sheltered location means minimal current, making it easy to maneuver and navigate.
It's teeming with rich wildlife – turtles basking in the sun or egrets elegantly strutting on marshy areas are common sightings.
There are scattered picnic spots where you can have a bite - just remember not to leave any litter behind!
Think of Jarvis Creek Park as nature's own green room where, every so often, she presents another fascinating act just for your viewing pleasure.
Pinckney Island National Wildlife Refuge
Pinckney Island National Wildlife Refuge invites all those yearning for solitude amidst nature, offering unspoiled landscapes and all the quiet you could ask for.
It spans over 4000 acres and is replete with salt marshes, tidal creeks, and freshwater ponds.
The dazzling array of birds flitting in the sky is a bird-watcher's paradise.
You might even encounter rare fauna like the American Alligator or Whitetail Deer.
Meandering through quiet waters with just the chirping of birds for company, I often feel like an explorer charting unknown territories every time I am paddling on Pinckney Island.
From stunning sunsets to serene parklands and immersive nature experiences, kayaking in Hilton Head Islands offers you a glimpse into slice-of-heaven landscapes that seem untouched by time. Each location carries with it its own unique imprint that guarantees not just a good paddle but unforgettable memories, too.
Also Read: Verde River Kayaking Destination: Why Is It Unique?
Preparing For Your Kayaking Adventure in Hilton Head Islands
Getting ready for a kayaking trip involves much more than just excitement. Preparations, especially for an expedition as thrilling as kayaking in Hilton Head Islands, should involve careful planning. This includes understanding the necessary equipment required along with being aware of the weather conditions to time your trip.
Necessary Kayak Equipment and Safety Gear
The thrill of kayaking can quickly turn into a scary experience if you are not adequately prepared with the necessary gear and safety equipment. Besides your kayak and paddle (the bare minimum), there are several things you should keep in mind when packing.
Personal Flotation Devices (PFDs): A life vest is an absolute must. It's imperative that it fits well and meets the U.S. Coast Guard standards.
Safety Whistle: To signal or raise an alarm if you run into any trouble during your course on water.
Sun Protection: Sunglasses, sunscreen lotions or creams, and hats/caps should be part of your gear to protect against excessive sun exposure.
First Aid Kit: Cuts, scrapes, or small injuries are common once you've embarked on a water journey. An absorbent quick-dry towel will also come in handy here.
Headlamp/Flashlight: If you plan to start early mornings or go late evenings, these would be essential.
Remember, "Better safe than sorry" prominently applies while kayaking!
Weather Conditions and Timing Your Trip
Weather plays a major role when deciding on timing for any sort of outdoor adventure; kayaking is no different. Ideal weather conditions greatly enhance enjoyment as well as safety during your trip. Here are some pointers:
Best Time To Go Kayaking In Hilton Head Islands: Late spring through early fall is generally suggested as the best time for kayaking due to pleasant weather conditions during these months.
Wind Conditions: Calm winds aid in smoother kayaking. Hence, you should always check the local wind forecast before heading out.
Temperature: Rain and cold temperatures could lead to hypothermia. Always keep tabs on the weather updates before starting your adventure.
Remember, even if it's a beautiful sunny day, there can be unexpected changes in weather on water bodies; always stay prepared!
Also Read: The Charm of Stand Up Paddling: A Comprehensive Guide
Where to Rent a Kayak on Hilton Head Islands
When it comes to kayaking in Hilton Head Islands, finding the right equipment is key. Luckily, the islands are populated with local rental shops that supply all the necessary gear for an enjoyable and safe day out on the water. Here's where you can rent a kayak:
Local Rental Shops
Having multiple options for gear rental allows you not only to find what suits your needs best but also adds convenience in securing equipment. Here are some top picks for local shops:
Island Water Sports: Located close to South Forest Beach, they offer both single and double kayak rentals. They have friendly staff who will provide guidance and tips for beginners.
Outside Hilton Head: Here, you get a variety of kayaks, including single, double, and fishing kayaks. What's even better is if you're feeling adventurous, they also offer paddleboards!
Kayak Hilton Head Inc: Not far from Jarvis Creek Park is this shop that provides tour guide service along with kayak rentals, making it perfect for first-timers.
These shops not only provide high-quality kayaks but also make sure safety equipment such as life vests and paddles are included with your rental, ensuring you have everything needed for an enjoyable day of kayaking in Hilton Head Islands.
Feel free to check them out online or drop by their physical location before deciding which one will work best for you!
Remember - each rental shop may have varying policies regarding reservations so it might be best to call ahead or check online availability during peak times, as same-day rentals may be limited.
From novice adventurers who are just beginning their journey into water sports activities such as kayaking to seasoned pros who know exactly what they need — rest assured that there's a rental option available for everyone.
Picking up my paddles always brings forth feelings of anticipation, the thrill of steering through calm blue waters or battling against mild waves on tougher routes. Having all the necessary equipment secured from your chosen local rental shop just makes your kayaking adventure in Hilton Head Islands that much easier!
Guided Tours For Kayaking In Hilton Head Island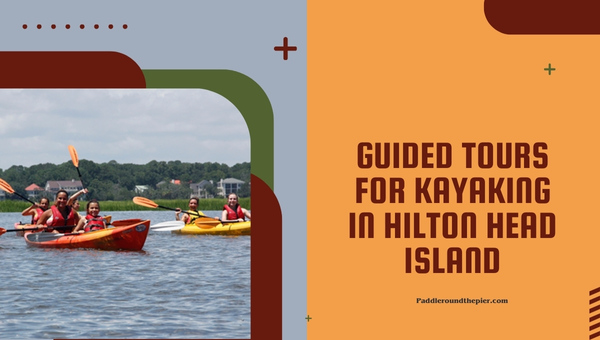 Choosing a guided tour for kayaking in Hilton Head Island can be an excellent decision, especially if you're a first-time kayaker or visiting the island for the first time. As someone who has experienced the beauty of these islands firsthand through kayak tours, I can confidently say that there's no better way to experience this paradise than from the seat of a kayak.
Benefits Of Guided Tours
Embarking on a guided tour for kayaking comes with an array of benefits:
Expert Guidance: Every guide is well-trained and familiar with all routes, making sure you safely explore all the beautiful spots without getting lost.
Route Familiarity: Guides are knowledgeable about hidden gems and unique areas that might be missed when exploring alone.
Added Security: Safety measures are always prioritized on guided tours, reducing unexpected risks and hazards.
From my perspective, it's all about enhancing your overall kayaking experience while also ensuring your safety.
Reliable Tour Operators
When thinking about reliable tour operators for kayaking in Hilton Head Islands, several companies come to my mind:
Outside Hilton Head: They're known to offer sundown discovery tours and family fun day adventures filled with unforgettable experiences.
Island Explorer Dolphin & Nature Tours: If dolphins are on your bucket list, look no further, as these guys specialize in dolphin watching, along with providing great guidance for kayak navigation.
Hilton Head Outfitters & Bike Rentals: If you love biking and want to couple it with your kayaking adventure, this place has got you covered with gear rentals and expert guidance.
FAQs
What makes Kayaking in Hilton Head Island special?
Hilton Head Islands' unique charm lies in its serene waterways filled with diverse wildlife, combined with breathtaking sunset views that offer a memorable kayaking experience.
What are the best times to go kayaking at this location?
The best time for kayaking in Hilton Head Islands is typically between mid-spring and early fall, when the weather is warm and gentle.
What wildlife can you see while out on the waters?
While kayaking here, you might spot dolphins, manatees, a variety of bird species, and possibly even an alligator lurking around!
Do I need any specific training or skills to kayak at these locations?
For calm waters like Jarvis Creek Park, beginners can easily kayak. However, having basic paddling skills can enhance your overall experience.
Are there any age restrictions or precautions required?
Age restrictions vary by rental companies. Generally speaking, though, children must be accompanied by an adult. As for precautions, always wear a lifejacket and keep safety gear handy.
Conclusion
In the end, I can confidently express that kayaking in Hilton Head Islands offers a perfect blend of adventure, nature, and excitement. When you paddle your way across waters brimming with breathtaking flora and fauna or take a guided tour for an enriching experience, it becomes more than an average day out. So pack up your paddles and safety gear; let's hit Broad Creek or Jarvis Creek Park for some spellbinding sunset sights as we navigate our way through the calm waters.
Key Takeaway Points
Kayaking in Hilton Head Islands is a unique experience due to its rich wildlife and natural beauty.
Various spots like Broad Creek offer incredible sunset kayaking experiences.
Guided tours provide expert guidance and enhanced security for novice kayakers.