Three Sisters Springs kayaking: Florida's Natural Gem
Updated On: November 4, 2023
Ever fantasized about immersing yourself in crystal clear waters surrounded by lush greenery and native Florida wildlife? Well, folks, your dreams are about to become a reality with Three Sisters Springs kayaking. Tucked away in West Florida's beautiful Crystal River, Three Sisters Springs is that idyllic retreat most city dwellers only dream of - an unspoiled haven of tranquil turquoise water teeming with manatees.
Whether you're a seasoned kayaker or just trying it out for the first time, everyone can share in the peaceful allure of exploring Three Sisters Springs. From paddling through clear canopied channels to marveling at stunning aquatic life beneath your kayak-- every moment spent here promises a fusion of exhilaration and relaxation. Get ready to witness some breathtaking panorama where reality surpasses imagination!
What You'll Check Out Here:
An all-inclusive guide on preparing for your Three Sisters Spring kayaking trip.
Tips on best times for kayaking in this pristine location.
Directions from nearby cities to make your journey convenient and hassle-free.
A glimpse into what more this Floridian gem has to offer - dine-outs, local attractions, and lodging suggestions.
Why Choose Three Sisters Springs for Kayaking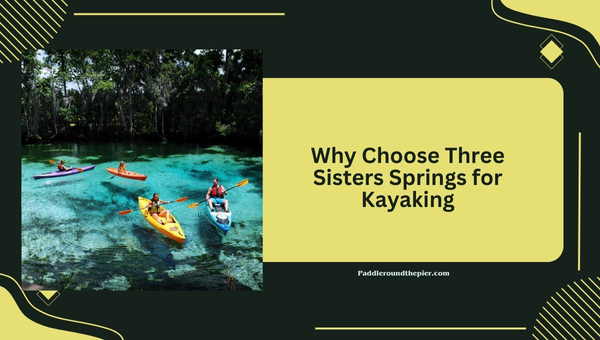 Kayaking in Florida has been popular among tourists and locals for some time now. But why? There's something magnificent about paddle boarding amid the calm, azure waters. But the experience becomes even more spectacular when you choose to kayak at the Three Sisters Springs.
Celebrated Natural Beauty
Three Sisters Springs is a pristine gem nestled in the heart of Florida with unparalleled natural beauty. Think clear waters that mirror radiant skies, lush green trees lining up along the waterways, and a horizon adorned with vibrant flora and fauna waiting to be explored.
Pristine Clear Waters: The crystal-clear water gives an imposing charm to Three Sisters Springs kayaking. You can effortlessly glimpse diverse aquatic life beneath your boat as you paddle through these clear waters.
Spectacular Wildlife: It's not just about what lies beneath but also what surrounds you during your kayak trip. You'll share this adventure with myriad native birds, making melodic symphony overhead and manatees gently teasing you underneath your kayak - a sight to behold!
Diverse Flora: Did I mention vibrant flora? From picture-perfect water lilies to palm trees creating a beautiful canopy - it's nature's grand show!
Exceptional Kayaking Opportunities
Indeed, exploring Three Sisters Springs doesn't end with its stunning view. Rather opens up several exceptional kayaking opportunities:
Manatee encounters: Who wouldn't lust after a chance to see adorable manatees gliding smoothly underneath their kayaks? The best part? Their regular occurrence makes this dream come true for most kayak enthusiasts in these warm springs.
Amazing vistas: No need for filters here! Snap some breathtaking personal postcard shots against Florida's most serene backdrops while floating atop these springs' waters.
When talking about the best time for kayaking in Three Sisters Springs, while every season offers something unique, winter is considered an ideal time. With comfy temperatures, it's also the season when manatees flock to these springs in large numbers.
Now that you're intrigued by this enthralling locale let's dive into the essentials you require for your Three Sisters Springs kayaking adventure.
Remember to look up options for Three Sisters Springs kayak rentals, and keep your gear ready! Excitement awaits.
Also Read: Top Reasons for Buying a Paddle Board: You Need to Know
How to Prepare for Three Sisters Springs Kayaking
Getting ready for a Three Sisters Springs kayaking adventure isn't just about excitement; it's about being prepared and being safe. Here, I'll guide you through the necessary equipment and safety precautions to ensure a thrilling yet secure journey across the tranquil waters of Florida.
Required Equipment
Embarking on a kayaking expedition requires more than just the spirit of adventure. There are certain essential items you need to consider before setting off into the beautiful waters of your destination. Here's a list of necessities you need:
Kayak - single or tandem, depending on whether you're braving it alone or with a partner.
PFD (Personal Flotation Device) - mandatory for your safety in case of an unexpected topple.
Paddle - choose one that feels comfortable and suits your strength and paddling style.
Bilge Pump and Sponge - invaluable tools that keep your kayak dry from any unintentional splashes.
Dry Bags - handy for keeping personal items like cameras or snacks dry throughout the trip.
Keep in mind that proper clothing is also part of your equipment. Dress appropriately for both weather conditions and water temperature, considering whether it's likely to be chilly, hot, windy, or rainy on your preferred day out in Three Sisters Springs.
Make sure to double-check this list with local Three Sisters Springs kayak rentals because some facilities may provide these items as part of their service package!
Safety Precautions
While we are exploring Florida's natural beauty during our exciting kayaking trip around Three Sisters Springs, safety should always remain foremost in our minds. Here are some guidelines:
Respect wildlife: It is possible to encounter manatees during any kayaking expedition around here—the adorable "sea cows" love its warm waters! Always remember they are fragile creatures; maintain respectful distances from them without encroaching upon their habitat.
Learn basic rescue techniques: Having a good understanding of self-rescue and other rescue techniques ensures that you're ready in case of emergencies.
Understand the area's weather: Monitor upcoming weather forecasts before venturing out. With Florida's thunderstorms, rain can appear suddenly—don't get caught off guard!
Beware of water currents and tides: Each body of water behaves differently. The serene Three Sisters Springs can have varying current strengths at different times or sections—a little research goes a long way in remaining safe.
Remember, adventure doesn't have to turn into misadventure; take these steps seriously. It's always better to be safe than sorry, especially when you're looking forward to experiencing the sublime beauty of Three Sisters Springs kayaking!
Stay tuned as I further guide you on making your drive towards this pristine location from various points in Florida. Keep reading, folks! We are just getting started on our adventure!
Also Read: Unforgettable Apostle Islands Kayaking Trip Essential Guide
Road to Adventure: Directions to Reach Three Sisters Springs for Kayaking Experience
Planning out your course ahead of time can give you a stress-free trip and lets you enjoy the scenic drive through Florida's coast. Here's exactly how you can reach the incredible Three Sisters Springs for your next kayaking adventure from Gainesville, Tampa, or Orlando.
From Gainesville to Three Sisters Springs
Set your GPS straight onwards to FL-26 W and FL-24 W towards US-19 S. The breeze from the Gulf Coast will accompany you along!
Roll down those windows as you follow US-19 S/US Hwy 98 S and enter Crystal River. Prepare yourself to soak in stunning views of lush landscapes and vibrant wildlife.
Turn left onto NE 5th St, then slightly right onto NE Crystal St.
Finally, when Three Sisters Spring begins sparkling in front of your eyes – turn left onto NW 3rd St. Voila!
On this roughly two-hour drive, ensure not to miss local food stops like Momma Sally's Family Restaurant, living up to their motto 'Just like grandma used to make.' You're sure not only reaching one place but it's a journey where every turn is an experience!
From Tampa to Three Sisters Springs
Ready for another beautiful road journey? Here we go:
Cruise I-275 N until exit 45B toward I4 E/State Fair Grounds/Ybor City.
Merge with I4 E for about nine miles.
Take exit 14 onto Mcintosh Rd, which leads right on US -301N
Go straight onto FL 44 W/FL50W towards Sumter Boulevard until the road meets N. Suncoast Blvd
-Turn right onto N Suncoast Blvd, which leads directly into Crystal River
-A quick right on SE Kings Bay Drive finally ends at the dreamy springs!
Keep an eye out for the colorful Floridian houses and citrus groves as you drive around Citrus County! The entire journey should take a little under two hours.
From Orlando to Three Sisters Springs
Orlando folks, here's the easiest way to reach your kayaking destination:
Head onto FL 408W
Merge to the Florida's Turnpike towards Wildwood/Crystal River
Ride straight onto FL44W / Gulf to Lake Highway
Turn right at the light onto US 19 / US 98 S into Crystal River
Take a left on King's Bay Drive and reach the awe-inducing Springs!
The journey will take you about three hours. Tip: keep an eye out for the quaint Old Courthouse Heritage Museum - a great pit stop before you start exploring Three Sisters Springs.
Remember, it's not just about reaching Three Sisters Springs kayaking; it's about truly enjoying this sun-soaked road trip through 'the real Florida.' Happy travels!
Also Read: Unlocking the Top 10 Kayaking Rules for Safe, Fun Adventures
Completing The Experience: Florida's Hidden Delights Off-water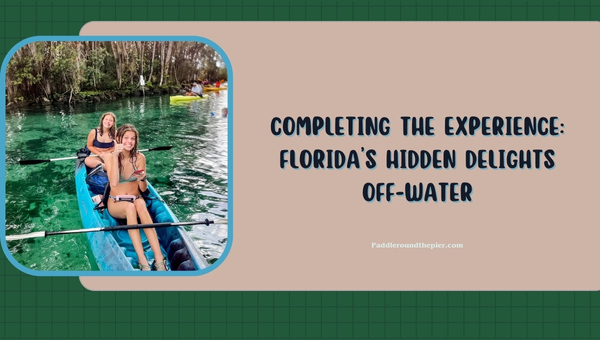 After you've had your fill of the incredible Three Sisters Springs kayaking experience, there's still so much to explore and enjoy off the water. Nestled in the scenic Crystal River area, you'll find a plethora of additional attractions and amenities that can make your visit even more memorable:
Local Dining & Accommodations
Discover some delicious culinary delights and restful retreats around Three Sisters Springs:
The Fat Cat Grill - Offering fresh seafood and hearty meals with a Southern kick, this is one place where I always love to wind down after a day on the water.
Julian's Restaurant - A local favorite for good reason; their decadent desserts alone are worth stopping by.
Plantation on Crystal River - A luxurious accommodation choice situated right on Kings Bay. They offer comfortable rooms with splendid views and even have an exclusive marina for guests who venture into Three Sisters Springs kayak rentals.
Crystal Cove Bed & Breakfast - For those seeking quaint charm in the midst of nature, this B&B offers cozy rooms with a homey feel.
These are merely my top picks; there are plenty more options when it comes to dining or resting your weary heads after exploring Three Sisters Springs.
Other Attractions
Florida isn't only about beautiful springs. It boasts its fair share of other enthralling attractions:
Homosassa State Wildlife Park: Get up close to endangered Florida Panthers or majestically giant Manatees in this interactive park that's just a short drive from Three Sisters Springs.
Downtown Crystal River Shopping District: Packed with local boutiques and old-fashioned antique shops, it's an ideal location for everyone who loves small-town vibe shopping sprees.
Chassahowitzka National Wildlife Refuge: Over 31,000 acres of untouched wilderness waiting to be explored. Hike the trails or go fishing – it's up to you how you wish to lose yourself in its wonder.
Between the compelling force of nature, scrumptious food, inviting accommodations, and shopping hotspots - your adventure doesn't just end at Three Sisters Springs kayaking. This beautiful slice of Florida offers a little something for everyone. I hope my suggestions guide you well in charting your own adventure through this corner of paradise!
FAQs
What are specific times when manatees can be seen while kayaking at the Three Sisters Springs?
Manatees are commonly seen during the winter months (November to April) due to the warmth of the springs. Early morning is usually a fantastic time to spot these gentle creatures.
Is equipment rental available at Three Sisters Springs?
Absolutely! There are multiple kayak rental services near Three Sisters Springs. They provide all the necessary equipment, facilitating your unforgettable kayaking experience.
What safety tips should first-time kayakers keep in mind at Three Sisters Springs?
As a first-time kayaker, you should remember three key points: always wear a life vest for safety, maintain a respectful distance from wildlife (especially manatees), and never venture out in unfavorable weather conditions.
Conclusion
As an experienced kayaker, I can assure you that the beauty and thrill of Three Sisters Springs kayaking are unparalleled. Imagine maneuvering down pristine waterways nestled in Florida's natural beauty while magical creatures like manatees swim by gracefully. The shoreline changes with every paddle stroke, revealing beautiful vistas and wildlife at every corner.
The joy lies not only in the ride but also in the journey there – whether you embark from Gainesville, Tampa, or Orlando. Once off-water, your adventure still isn't over – local cuisine and attractions add to this vibrant landscape, viewable all day throughout various times each year.
Key Takeaway Points
Three Sisters Springs kayaking offers breathtaking natural beauty teamed with a wealth of marine life.
It pays to be prepared. Equipment and safety are crucial for an enjoyable experience.
The road leading to the Springs also holds unmatched charm at different routes.
Florida harbors hidden delights that supplement your kayaking trip beautifully.